Memory Locket Buying Guide
We've answered some of our most frequently asked questions here. If you have any other questions please don't hesitate to get in touch - we love to help!
How do I choose whether my locket is a necklace, keyring or bracelet?
All lockets are available on either a long or short chain, or as a keyring - when you add a locket to your basket you can make your selection from the drop-down menu. Bracelet Lockets are available further down the Memory Locket page.

Please note - our keyring lockets are designed for light use only. We use a strengthened glass - but they are ultimately a glass piece of jewellery, and there is only so much bashing around they can withstand!
Which size locket should I choose?
Here's a quick size guide to our most popular lockets, however if you click on any product you can view the product information page which has more thorough dimensions.
Large lockets measure 30mm in diameter.
Medium lockets measure 25mm in diameter.
Small lockets measure 20mm in diameter.
Teardrop Lockets measure approx 27mm x 33mm
Heart lockets measure approx 28mm diameter.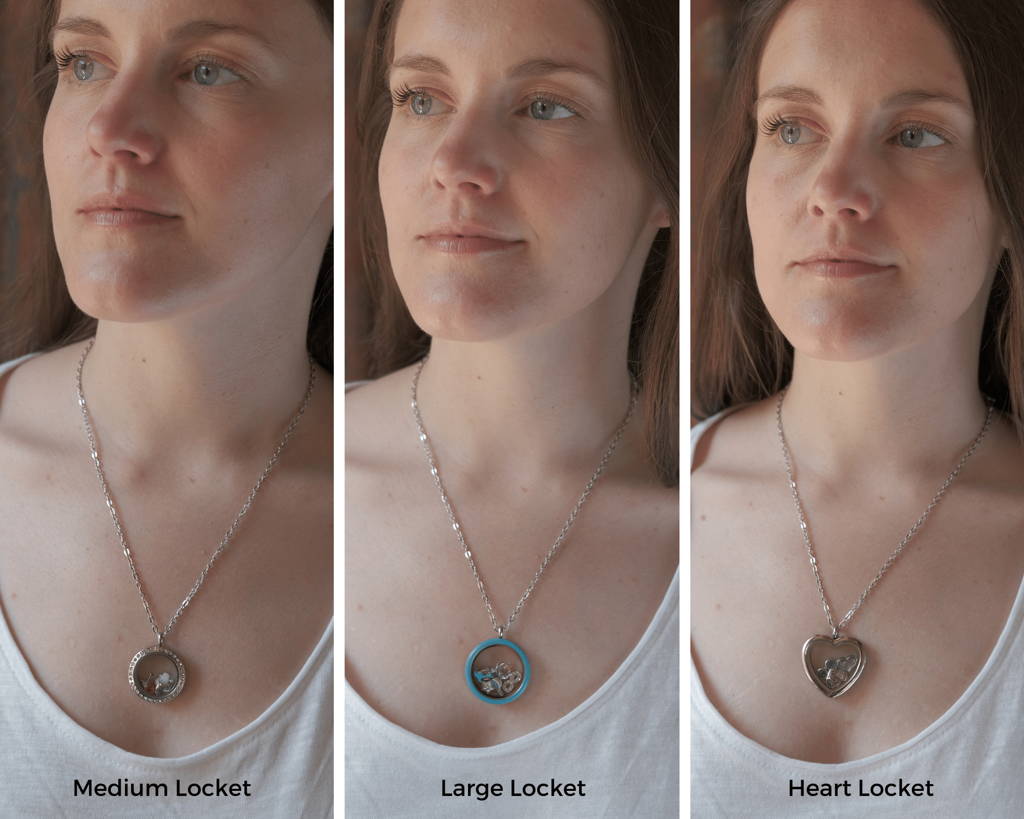 What chain styles and lengths are available?
A few years ago we used to offer a selection of chain styles, however most people chose the 'ball-station' chain so in 2020 we made the decision to supply that one as standard (we figured there are already enough decisions to be made when choosing from over 300 charms!) You may still see other chain styles in photos around the site, however you will receive a ball-station chain (as seen in the photos below). They're available in either short (18") or long (30"). When you add a locket to your cart you can select your chain length from the drop-down menu. This is where you can also select to have it as a keyring if that's what you'd prefer.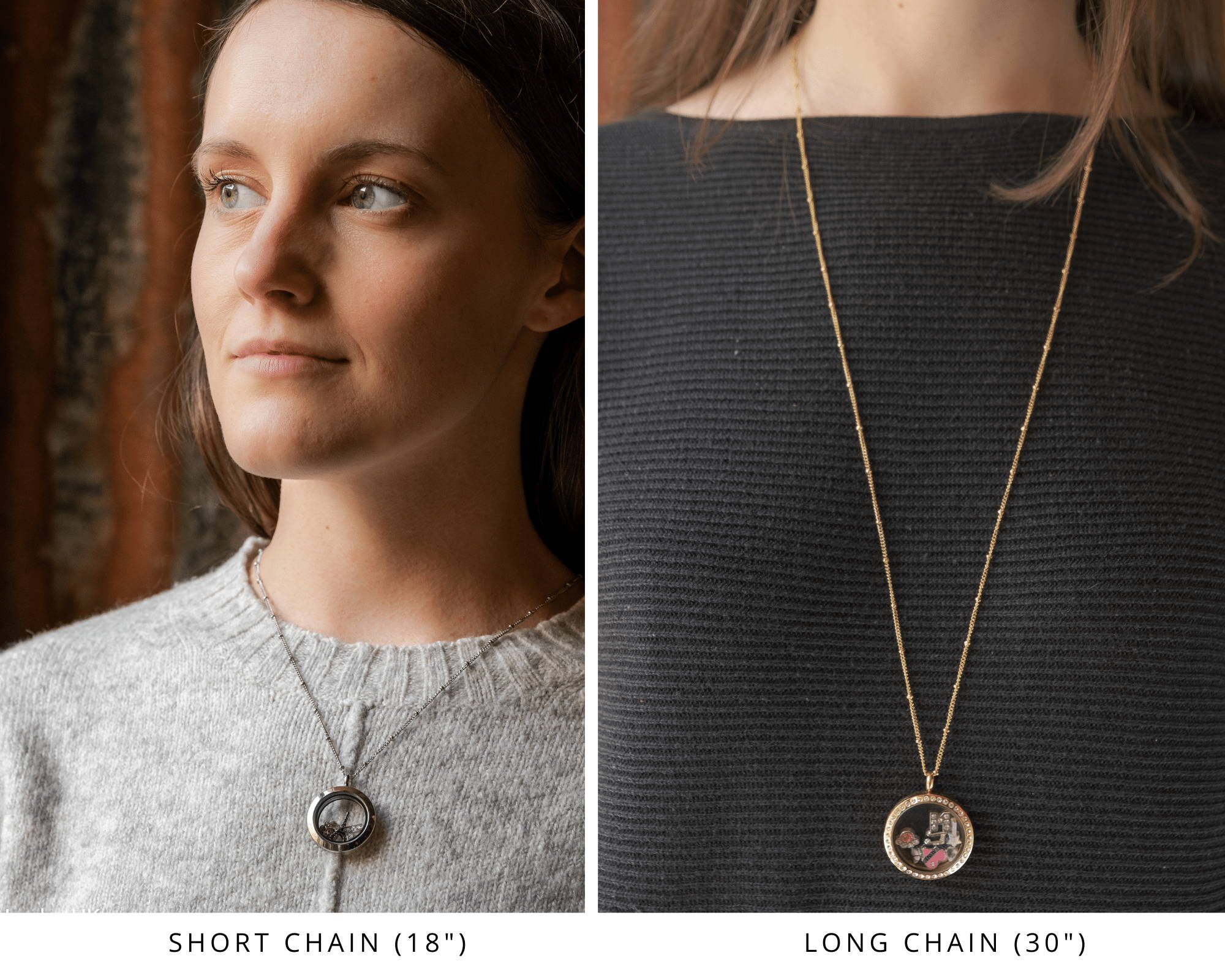 How many charms can I fit in my locket?
Our Memory Locket charms vary slightly in size, so we can't say exactly how many will fit in each size locket. We do offer the following guide (although we can't guarantee that the charms you order will fit. If you end up with too many, we send the extras alongside in a little gift bag, and you can swap around the charms you have in your locket as often as you like).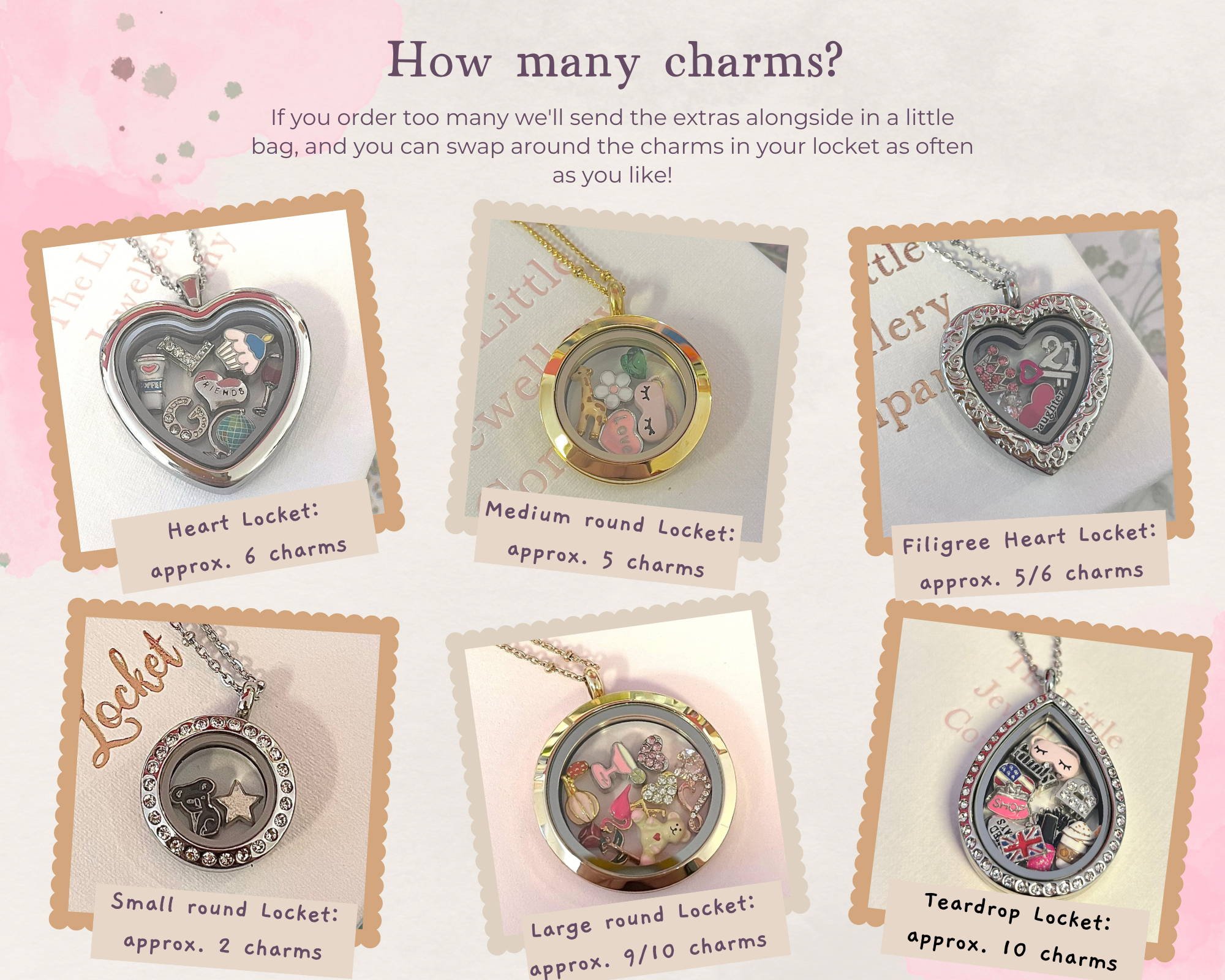 How do you open the lockets to add/change charms?
Our Memory Lockets are designed to be opened as often as you like, so that you can change/add/reorganise your charms :) There are two styles of locket, magnetic and screw-fastening. First of all you need to find out which of these you have - take a look at your locket, check all around the outside of the locket. If you can see a little groove on one side, your locket is a magnetic fastening locket. If it is completely smooth all the way around, your locket is a screw fastening locket. Here's a quick guide to opening each:
Screw-Fastening Locket:
The entire front of your locket will unscrew. Take care when fastening it back up - it can take a couple of tries to line up the two sections. Once closed there should be no gap between the two pieces.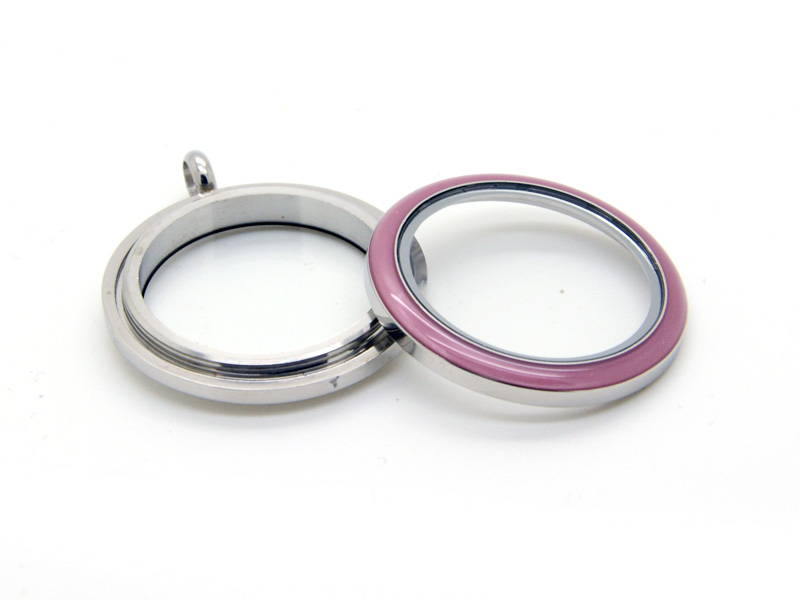 Magnetic-Fastening Locket:

This style opens at the side (like a book). Pop your fingernail in the groove and gently press to open.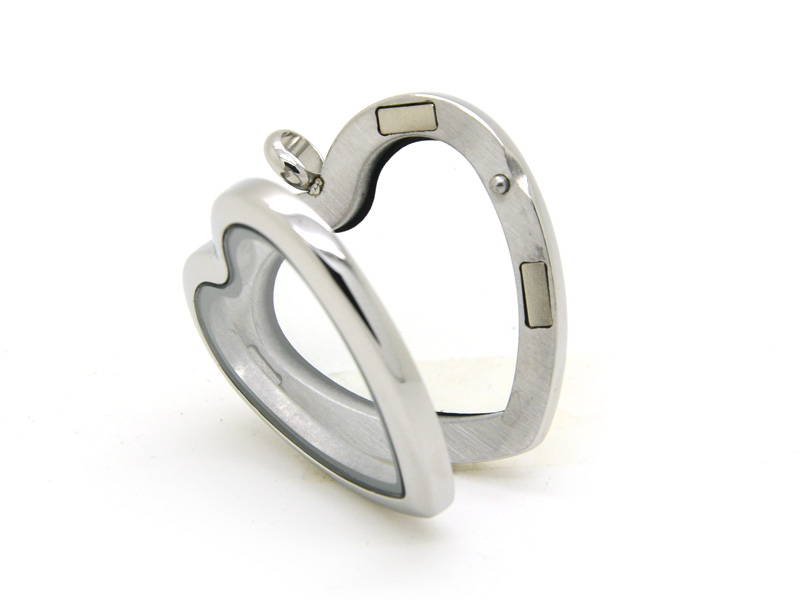 What if I'd prefer my locket as a keyring or bracelet?
Any of our Memory Lockets can be purchased as a keyring. When you add one to your basket simply select 'Keyring' from the drop-down menu. If you subsequently decide that you'd like to wear it as a necklace, it's very straightforward to unclip the keyring section and thread the locket on to a chain.
We have a couple of styles of Memory Locket Bracelets - you'll find them towards the end of the Memory Lockets page.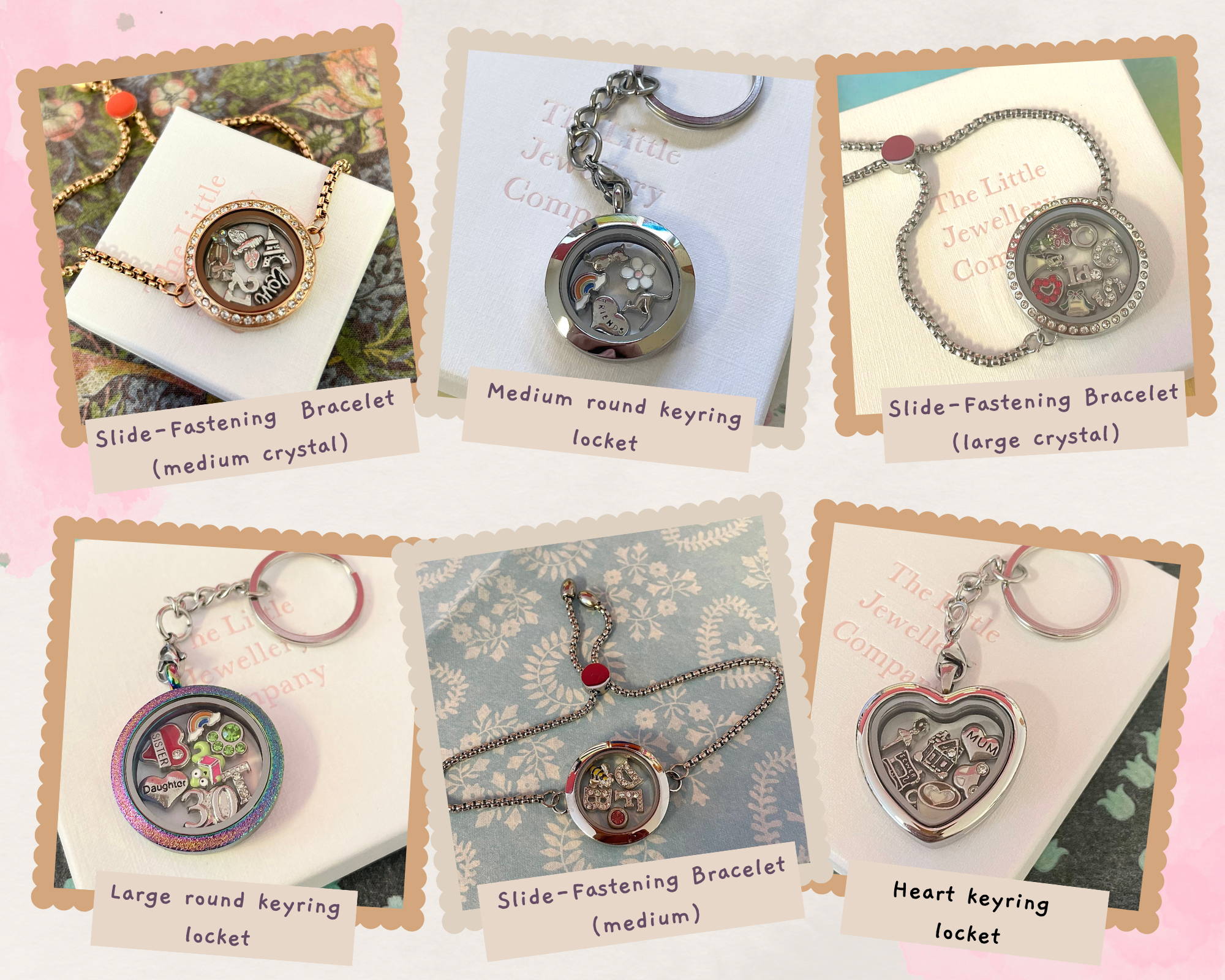 What if I want to buy more than one locket?
If you're buying more than one locket, simply add all your lockets and charms to your basket and purchase everything together. Once your order comes through to us we'll send you a quick email to ask which charms you'd like in each locket (or whether you'd rather we just send all the charms separately for you to organise into the lockets yourself). Alternatively, there is a notes section at check out, and you are welcome to pop a little message there explaining how you'd like us to put your lockets together.